Apr 14, 2014
This week's theme
Words coined after Shakespearean characters
This week's words
dogberry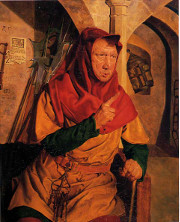 Dogberry Examining Conrade and Borachio
Art: Henry Stacy Marks, 1853
Photo: Wikimedia
---






A.Word.A.Day
with Anu Garg
Shakespeare has been dead for centuries, but he continues to haunt high school students around the world. They have to study his plays year after year. They have to dig deep and analyze. And then they have to produce reports in Times New Roman 12-point, double spaced, one-inch margins, at least three pages.
But there's a reason Shakespeare is still with us after all this time. In his poems and plays, he has captured human foibles, discontent, ambition, and almost every human quality. His influence on the English language is enormous.
It's not surprising that his characters have come alive in our language. Next week marks the 450th birthday of the Bard of Avon. In his honor we have picked five words that have been coined after his characters. We'll meet characters from the plays
Much Ado About Nothing
,
Merchant of Venice
,
Timon of Athens
,
The Tempest
, and
Romeo and Juliet
.
Dogberry
PRONUNCIATION:
(DOG-ber-ee, -buh-ree)

MEANING:
noun: A pompous, incompetent, self-important official.
ETYMOLOGY:
After Dogberry, a constable in Shakespeare's
Much Ado About Nothing
, in which he goes about his blundering ways while mouthing
malapropisms
. Earliest documented use: 1801.
USAGE:
"Why doesn't he do something, then? Ignorant Dogberry! Useless bumpkin! Calls himself a copper and doesn't even know where to start!"
Edmund Crispin; The Glimpses of the Moon; Gollancz; 1977.

"The mayor of Bangor, Maine, vetoed a time-altering resolution passed by its city council ... for which Railway Age lampooned him in an editorial that began 'A Dogberry who holds the office of mayor.'"
Jack Beatty; Age of Betrayal; Knopf; 2007.
A THOUGHT FOR TODAY:
A lexicographer's business is solely to collect, arrange, and define the words that usage presents to his hands. He has no right to proscribe words; he is to present them as they are. -Noah Webster, lexicographer (1758-1843)
Unsubscribe | Subscribe | Update address | Gift subscription | Contact us

© 2014 Wordsmith.org